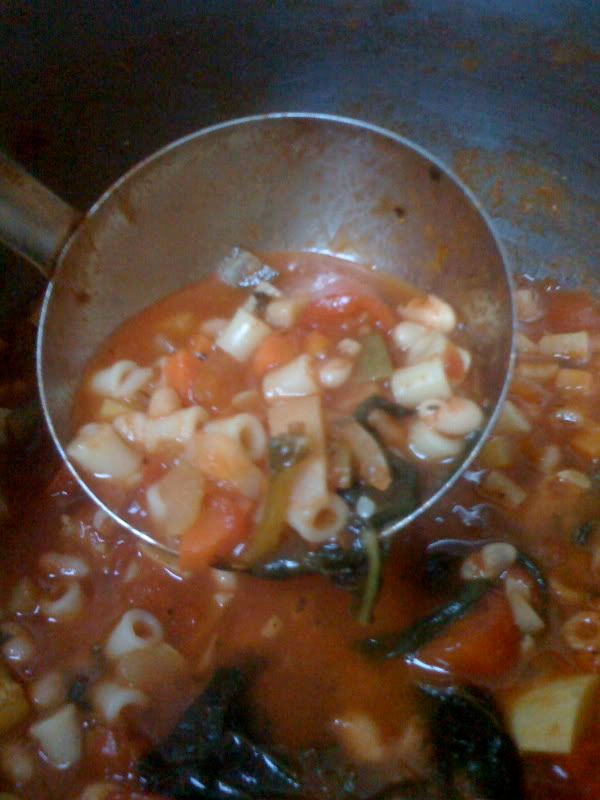 I made a round of something similar to Crisis Management Soup the other day and it is so epically awesome that I figured I should write down what I did.
Ingredients
1 zucchini
1 yellow squash
1 bunch spinach
1 large handful of green beans
2 carrots
3 stalks of celery
1 onion
3 cloves of garlic
1 pt cherry tomatoes, halved
1 vegetarian bullion cube
1 28 oz can of crushed tomatoes
1 tbsp tomato paste
2 parsnips
1 can of small white beans
Directions
I would have put in potatoes, but we ran out when I thought we had more.
Chop up your veggies. Divide your zucchini, squash, carrots, celery, and parsnips, plus potatoes if you've got them, into two piles. One is going to simmer for a long time and turn to mush, the rest will cook for a shorter time to be a little firmer.
Saute your garlic in the pot for a couple minutes in a bit of oil. Add the onion, saute until soft.
Add the 28oz can of crushed tomatoes, then fill the can up 2x with water and add to the pot. Add tomato paste and vegetable bullion.
Toss in half of the veggies indicated above. Reserve the other half.
Bring to a boil, then simmer for a long ass time, covered. When you feel that you've got adequate simmerage, use a potato masher to squish up the veggies that are in the pot. Give it a good stir. Now, toss the remaining zucchini, squash, carrots, celery, and parsnips, plus potatoes if you've got them, and now is the time for green beans as well. Add the small white beans. Simmer for about 10 minutes or until tender (depending on how big you chopped them).
Save the tomatoes and the spinach for the last few minutes of your cooking. Toss them in, and your soup will be ready when the spinach wilts.