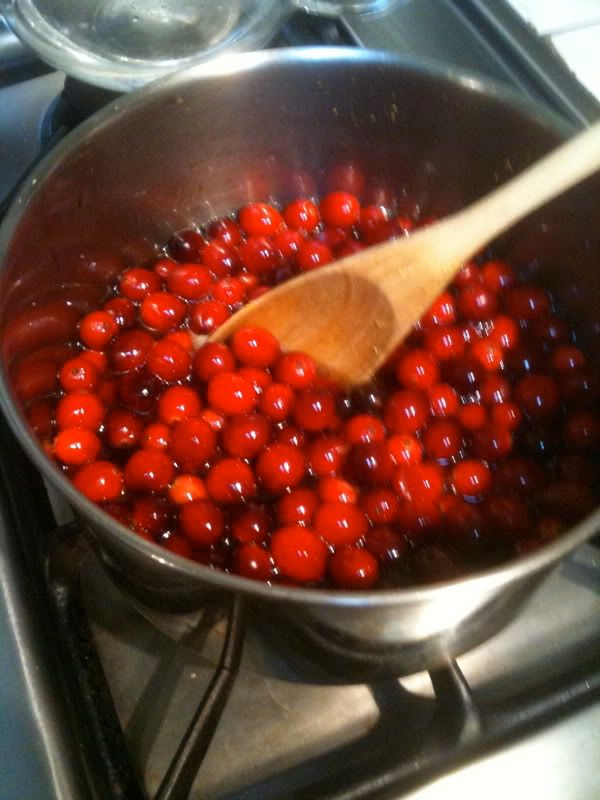 I've never made cranberry sauce before, but I wanted to make a Harvest Fruit Crisp for my family tomorrow. The last time I bought cranberries, I got them at our local food co-op, and I got to purchase them in whatever quantity I liked, but at our local ShopRite that's about three minutes away, there's only the ones that come in a 12oz bag. So, I had a lot of cranberries left over and I figured that it was about the time of year that cranberry sauce would be appreciated.
We also bought one of the first crates of clementines that ended up in our grocery recently, but they weren't terribly sweet, so they haven't disappeared very quickly. I threw a couple into this recipe since citrus and cranberry pair together nicely, and in hopes that the next crate of clementines will be a bit more palatable to simply snack on.
Ingredients
1/3 cup natural sugar
1/3 cup brown sugar
zest of 2 clementines
juice of 2 clementines
3/4 cup water
3/4 package fresh cranberries (about 8 oz)
1 teaspoon cornstarch
Directions
Dump all of the ingredients except the cornstarch into a medium saucepan.
Bring to a boil, then reduce and let simmer for about ten minutes. You'll see and hear cranberries popping, but this is normal. Once it has simmered, if it's not quite thick enough, add the cornstarch to a bit of water, then add that to the cranberry mixture. Stir it well.
Remove from heat, and allow to cool. I'm refrigerating mine overnight and serving it up tomorrow!