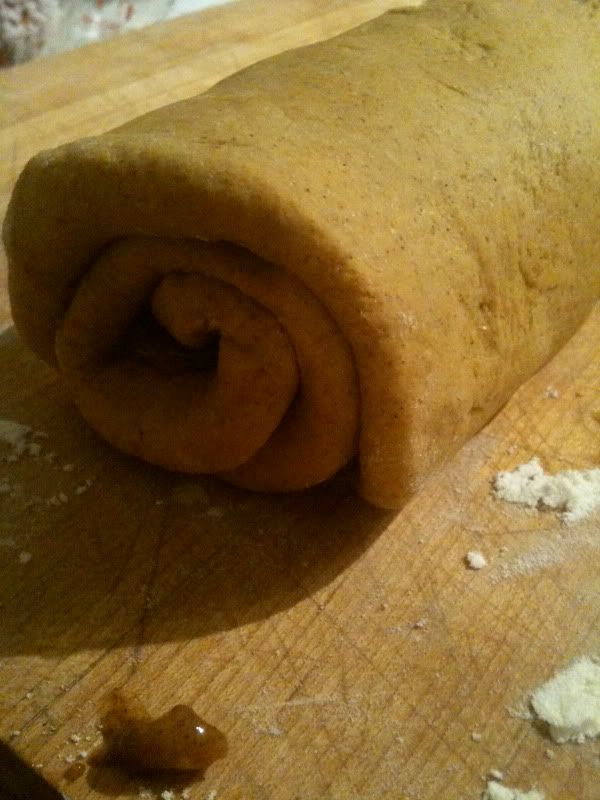 This entry was made the day before Thanksgiving. The rolls ended up being left in the oven too long because someone besides me was responsible for them, but I'd make them again – aside from being too hard from being in too long, they were good.
"I hope they're good," I said, referencing these rolls that I had rising in the fridge. Charlie's sister has instructions to put them in the oven when she wakes up in the morning, earlier than the rest of us, since her friend needs a ride so she can catch a flight.
"I hope they don't eat them all before we wake up," Charlie said woefully.
This recipe is based on the one that's on the King Arthur Flour website , except that I've made a lot of changes. Some of them were because I just didn't have some of their products that they sell, like their Easy-Roll Dough Improver, and some of the changes were for reasons such as, I think it's blasphemous to not include cinnamon in the filling inside of sticky buns.
Either way, those are the origins, and I'm quite happy to have the inspiration. Charlie, his sister, and the other people sleeping at our house tonight were quite happy for me to have it, too.
(Don't let these spend too long in the oven! I made the mistake of letting someone else mind them, and they were in too long and got a bit dried out.)
Ingredients
Dough
3 1/4 cups Whole Wheat Pastry Flour
1 teaspoon salt
1 tablespoon brown sugar
2 tablespoons natural sugar
2 teaspoons cinnamon
1/2 teaspoon ginger
1/4 teaspoon nutmeg
1 teaspoon vanilla
1 1/2 cups pumpkin
2 1/4 teaspoons instant yeast
1/4 cup bread flour
3 tablespoons unsalted butter
Filling
2 tablespoons cornstarch
2 tablespoons maple sugar
1 tablespoon brown sugar
1 tablespoon natural sugar
1/2 cup flour
3/4 cup chopped walnuts
2 large eggs
1 tablespoon cinnamon
Glaze
1/2 cup chopped walnuts (optional)
1/4 cup unsalted butter
1/2 brown sugar
4 tablespoons cane syrup, golden syrup, or light corn syrup
2 tablespoons cinnamon (or, to taste)
Directions:
Combine all dough ingredients and mix them in a stand mixer or by hand until a smooth, soft dough is formed. Add a bit of water if the dough is too dry. Spray a non-metal bowl with oil and flip the dough once to coat. Cover with a damp cloth and allow to rise in a warm place for about one hour (the dough will not necessarily double in size).
Combine the filling ingredients and stir well. Deflate the dough and roll it out onto a floured surface into about a 12×16 rectangle. Spread the filling over the sheet of dough, then, starting with a long edge, roll the dough into a log, pinch the edge to seal it, and slice it into 16 1-inch pieces.
To make the glaze, melt the butter, then stir in the sugar, syrup, cinnamon, and walnuts. Pour some on the bottom of the pans, and drizzle the rest on top.
Bake the buns in a preheated 350°F oven for 25 minutes for 2 round pans, or 35 to 40 minutes in the sticky bun pan, or until they're golden brown and you see the glaze bubbling.
Remove the buns from the oven, and immediately turn them out of the pan(s) onto a serving plate to cool.