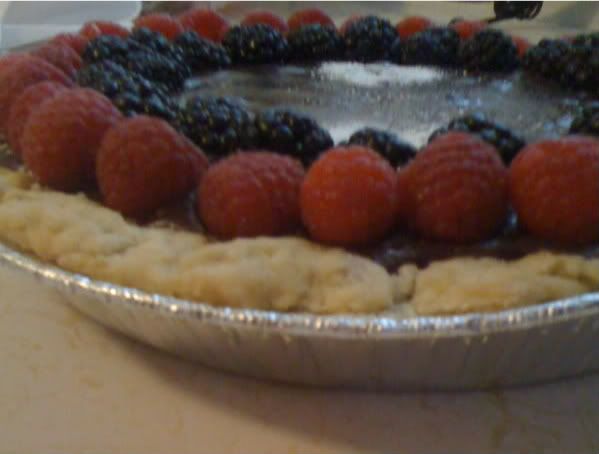 It's probably a little late in the day for me to post a Valentine's Day suggestion recipe, but you never know. Maybe you're having a late, late dinner, or celebrating a day late. I'm not really into V-day – my partner and I had some cuddles and got his mom flowers.
This recipe is one from the archives. In fact, this is the first recipe that I recorded in my journal, and decided that I'd keep my recipes online, and really, was the start of my food blogging before I did actual food blogging.
It's for Valentine's day because I stenciled hearts on it, and because it's very decadent, and because when I had knee surgery is when I started getting shmoopy with Charlie. (The two year anniversary of us and my knee surgery is next month.)
The great thing about this recipe, if you're cooking a dinner for Valentine's day, you can use a pre-baked crust from the store, and make the pudding on the stove while all your other dishes are going on, which is a little easier than trying to measure flour, user your stand mixer, and all that jazz, while you're stirring stuff and checking on the roast in the oven.
So, while this could be something that was totally from scratch and took a while, it could also be something that was thrown together in a relatively quick amount of time and was really, really impressive. Don't be a stickler for the type of fruit you use – February can be a difficult time to get really beautiful fruit, so if strawberries look better than raspberries, go with them, and so on. Pick the berries that look the best, but try your hardest to get fresh, not frozen. Frozen is a last resort.
Here is the original text from my entry:
I've decided I'm going to start recording my recipes/cooking excursions in here, because I always make notes on the actual printed recipe and then lose it, and just get it off the internet again… so here we go!
Today I baked a pie that I was thinking about after watching that movie "Waitress."
The layers went like this:
• prebaked pie crust (from scratch)
• layer of melted bittersweet chocolate, painted on the bottom and sides
• layer of crumb topping
• layer of crushed raspberries and blackberries
• layer of chocolate filling (sort of pudding like)
• rings of fresh berries (& optional decorative confectioner's sugar)
The main problem I recall having with this recipe was getting the filling to thicken.
Ingredients
1 single layer pre-baked pie crust (either store bought or Charlie's Consistent Win Pie Crust
Chocolate Lining:
2oz bittersweet chocolate
Berry Filling:
2 pints blackberries (half reserved for decoration)
2 pints raspberries (half reserved for decoration
1-2 teaspoons white sugar
Crumb Topping:
1/2 cup brown sugar
1/2 cup all-purpose flour
2 tablespoons butter, diced
Sprinkle of cinnamon
Chocolate Filling:
1/4 cup butter
1 cup white sugar + 2 tablespoons
2 tablespoons unsweetened cocoa powder
3 tablespoons all-purpose flour
2 egg yolks
1 cup milk
1/2 teaspoon vanilla extract
a little bit of cornstarch in case of emergency
Directions
Preheat oven to 350 degrees F.
First, crush a pint of raspberries and a pint of blackberries slightly to release some of the juices. Taste the berries to see how sweet they are, then stir them with the 1-2 teaspoons of sugar. Let this mixture sit out while you prepare the rest of the pie.
Next, prepare the chocolate filling. In a cast iron skillet, if available, or other heavy bottomed pan, over medium low heat, melt the butter or margarine.
Combine one cup of the sugar with cocoa and flour. Beat the egg yolks with the milk and add them to the sugar mixture. Add the sugar and egg mixture to the skillet with the melted butter and cook gently, stirring constantly until thick. (Watch this mixture closely as it has a tendency to burn!) Add the vanilla.
When I first made this at the very beginning of my culinary adventures, I had trouble making the chocolate filling thicken. If this happens, don't panic. What I did was add a thickening agent, like cornstarch, and it worked out just fine. I haven't tried to make it again since then, so I'm not sure if it was the way I was cooking it or the recipe! But – in case of emergency – there's your fix. But also – this pie does better if it sits in the refrigerator for the correct amount of time, so if you're not going to have enough time to refrigerate, you're going to want the cornstarch. If you have time to refrigerate overnight, you can be satisfied with a slightly less set filling.
Make your crumb filling by mixing the flour and sugar together in a bowl, then cutting the butter in with two knives, a fork, or a pastry blender just until the topping is crumbly.
Melt the bittersweet chocolate in a double boiler and paint it with a spatula along the bottom and inside edges of the crust. Let this cool.
Pour the berry filling into the bottom of the pie crust with the chocolate shell.
Pack in the crumb topping on top of the berry filling. This layer will help serve as a barrier between the two chocolates so that they don't just melt together in the oven!
Pour in the chocolate filling. Do not overfill the crust.
Bake the pie at 350 for 10-15 minutes.
Remove pie from oven and let cool on counter for 20 minutes. Decorate with berries around the edges, and if desired, stencil confectioner's sugar hearts on the pie. Refrigerate for at least 3 hours or overnight.