No, I still haven't learned how to can.
Yes, I am seriously considering buying stuff to can with, especially since I love apple picking and Charlie can't really eat raw apples, which leaves us with dozens and dozens of apples for hahas.
But, that has not stopped me from making tomato sauce! Two or three times now, actually. It's even more worth it since we have a slow cooker that does the majority of the work for me.
You see, we've been getting a ton of tomatoes in our farm share nearly every week. Sometimes they're in beautiful condition, and sometimes they're a bit soft. We've been averaging at least two pounds a week, and sometimes we've been getting as many as four pounds a week, and that is a lot of tomatoes for two people to go through. Seeing as the strongest cultural background that I have is Italian (I have other roots, too, but none of those relatives are really around or celebrate their backgrounds), I figured that I should really learn to make an awesome tomato sauce.
This tomato sauce is pretty awesome.
Starting with really flavorful tomatoes is key. The heirloom tomatoes we've been getting from the farm are beautiful, in all different colors – yellow, orange, green zebra, deep reds. All of them have deep flavors. If you don't want to go through the trouble, you can start with tomatoes from a can, but whatever you do, don't pick sad, pale tomatoes from the store. Pick ones that are vibrant, like romas or on-the-vine tomatoes.
Now, the part that's the biggest pain in the ass is peeling the tomatoes. Most of you probably know the trick of boiling a pot of water, dunking the tomatoes in for about a minute, and then fishing them out. The skins come right off after that. It works even better if you slice an X into the bottom before you stick them in the pot.
If you've got a decent food processor or immersion blender, though, and you're low on spoons, time, or energy, you can make a more rustic sauce by just throwing the tomatoes in with the skins on. Yeah, skins, seeds, whatever. I had Bo's immersion blender that he forgot at my house and decided to go for it, and it turned out just as awesome. Make sure you wash the tomatoes first if you're going to go this route, cut out the stem, and this would be a good time to choose organic, since you'll be eating the skin (tomatoes are a good time to choose organic, anyway, since the skin is so thin that the chemicals are said to leech through, as opposed to something like an orange or a banana that has a tougher skin that we usually don't eat).
Here's what my tomatoes looked like one of the times that I decided to peel them…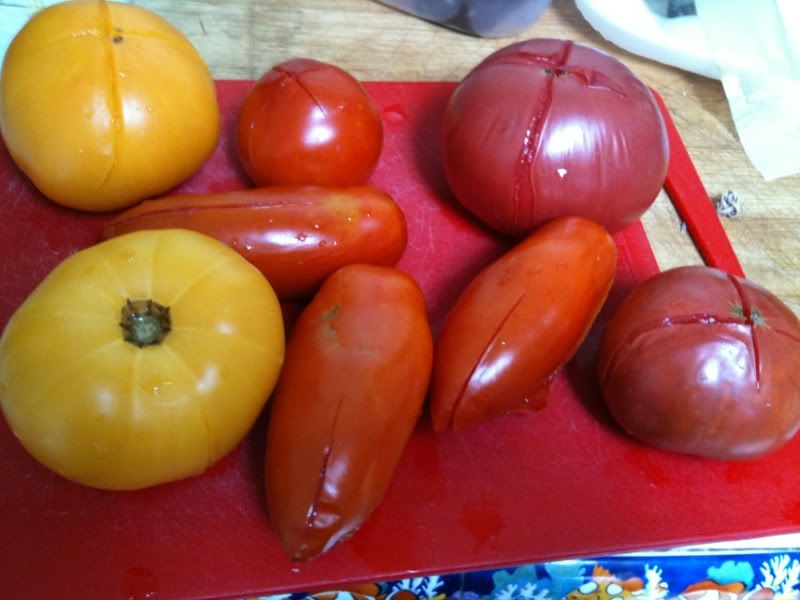 Ingredients
3-4 pounds fresh heirloom tomatoes, chopped (skins removed/seeded if you'd like)
1 stalk celery, minced
1 whole onion, finely chopped
4 mushrooms, chopped
1/2 small pepper, finely chopped
3 large cloves of garlic, minced
1/4 cup olive oil
3 tablespoons fresh basil
3 tablespoons fresh oregano
1/4 cup fresh parsley
1 1/2 teaspoons salt
black pepper
1 tablespoon earth balance (you can use butter, too)
2 bay leaves
1/2 cup wine
1/2 can of organic tomato paste (optional)
Directions
As always, slow cookers have vastly different times, so take this with a grain of salt and do what you think will be best for your slow cooker. Usually when I try a new slow cooker recipe, I stay at home for the first time making it, and then I'll "set it and forget it" for future excursions.
Sautee the garlic in a pan in a bit of oil on medium heat for about one minute. Add the onions and cook for 2-3 minutes or until translucent. Remove from heat.
Dump the tomatoes, celery, onions, garlic, mushrooms, pepper, olive oil, wine, and bay leaves into the slow cooker. Wait until later on to decide if you want the tomato paste.
Cook on low for about 6 hours. If your sauce is looking pretty soupy (mine usually does), remove the lid and cook on high for about an hour, stirring occasionally.
I keep telling myself that I'm going to put in some tomato paste, and I have a can stashed in the cupboard, but the tomatoes have been so flavorful and rich that I haven't had to. If yours come out a bit bland, though, it's a good way to give it a bit of a concentrated punch.
Once it's cooked down, you can salt and pepper to taste, add the tomato paste if you need it, toss that little pat of butter or earth balance in, and add in all your fresh herbs. You can let it simmer for a bit longer, but not too long, as you don't want to degrade the herbs too much. Use it immediately, freeze it, or put it in a jar in the fridge and use it in a couple of days.