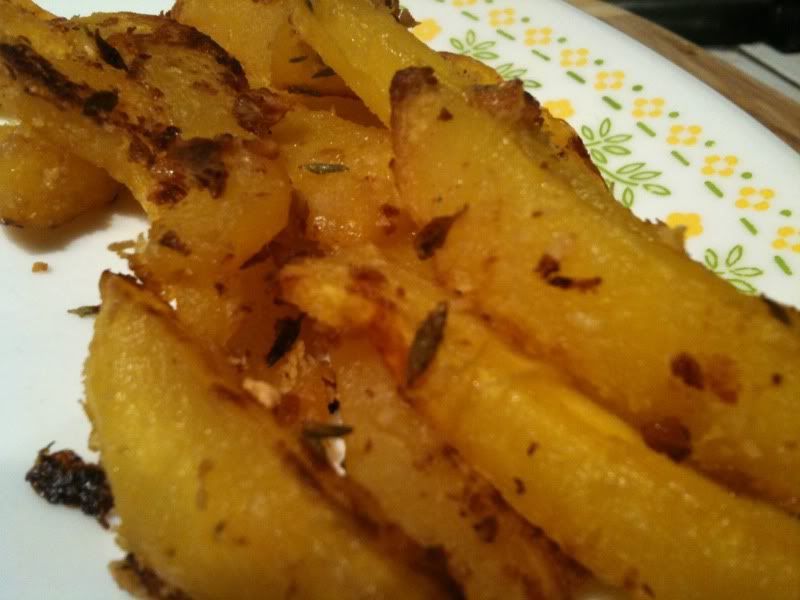 The credit for the concept of squash fries totally goes to my beautiful friend Clara, who is very clever in the kitchen and also good at the "use up what's left from the CSA" game. She mentioned the idea in a facebook status, and since Charlie is not the biggest fan of squash (but I am), and we both like oven fries, and since we have a ton of squash from our CSA, it had to be done.
Clara gave me some basic directions, but I promptly forgot them and may have even deleted them. I did not go on an internet hunt for them. Instead, I ran with Clara's concept and made up my own lovely little side dish. I had a delicata squash that looked like it would be a perfect size for Charlie and I to share. Since I love thyme and squash together, I went out to the back deck, in my slippers, in the cold, in the dark, with my pair of kitchen scissors, and stabbed at my herb garden, hoping that some of the thyme was still alive. Some of it was… but not a lot. Thyme is a pain in the ass to deal with when all of it is in good condition, so when some of it is sad, it is a frustrating time indeed.
The next roadblock was the cheese. My dream of these fries included them being crusty with garlic and parmesan cheese, but when I looked in the fridge, the familiar canister was not in its home. I then remembered the wonderful spinach fettucini with homemade alfredo, served with a breadcrumb stuffed portabella mushroom that Charlie had made for me the other night. It was awesome. What was not awesome was that he forgot to tell me that we were out of both parmesan cheese and parchment paper. (I can easily forgive him after a dinner like the one I just described.)
Time to go to Plan B. I really wanted that coated, crispy brown edge that the cheese would have given. I looked in the cabinets. Nutritional yeast to the rescue! If you've never used nutritional yeast before, you can get it in the bulk section of most natural foods stores, or in a shaky container just like parmesan cheese! It's actually a great vegan substitute for parmesan cheese, so I liberally sprinkled that into my mix instead. Most nutritional yeast is also fortified with Vitamin B12, which is difficult for veg*ns to get enough of, so sprinkle some on your garlic bread and mix it in your mac & cheese. Or… make these fries! We served this meal with Milo's Kale Chips (currently in season in the tri-state area!) and Gardein Veg*n "Chicken" Tenders.
P.S. I'm still looking for awesome apple suggestions! What would you do with a half bushel of apples?
Ingredients
1 medium delicata squash (butternut or other similar variety would be fine, too)
extra virgin olive oil
1/4 cup nutritional yeast (or parmesan cheese)
1 tablespoon fresh thyme
3-5 cloves garlic, minced
coarse salt to taste
Directions
Peel the squash, cut lengthwise, and remove all the seeds and stringy bits. Slice into small strips. Try to cut them evenly so they'll cook evenly.
Dump the squash into an appropriately sized bowl. Add just enough olive oil to coat them. Toss them with your preferred utensil to make sure they're evenly coated. Add the garlic and thyme and toss again. Add nutritional yeast and mix it up a bit more to ensure that the nutritional yeast evenly coats the pieces.
Spread the fries in a single layer on a nonstick baking sheet coated with a quick spray of oil, or, if your partner didn't use up the rest of the parchment paper without telling you, you could use that if it's more convenient.
Bake at 400*F for 20 minutes or until the fries are soft in the middle and browning on the outside. Don't forget to give them a good shuffle once in a while when they're in there. If you feel like it, put them on broil for about two minutes at the end to get them a bit more crispy.