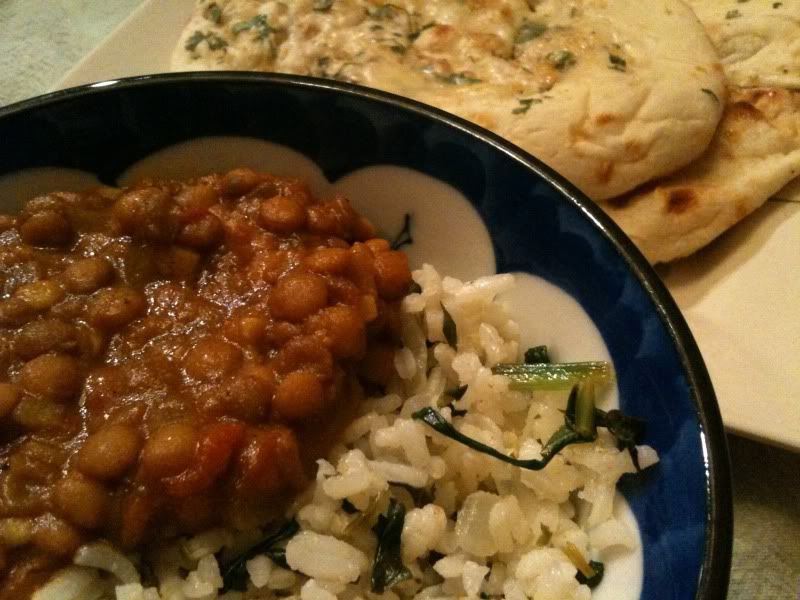 When I was growing up, we never ate Indian food. We actually hardly ever ate any regional foods except for Italian (part of my heritage) and Chinese takeout (when we were sick of pizza). I didn't try sushi until high school, hadn't had Korean food until college, and even many European specialties never crossed my plate until I traveled there.
One type of food I was really hesitant about was Indian food. I'd figured out at some point during my life that I don't like what we traditionally think of when we say "curry," and for a while, I was one of the folks that thought Indian food=curry, which is totally incorrect. The great thing about Indian food is that there's often a ton of vegetarian options, so really, once I figured out what I liked, I was golden. (I just have to watch out for the super spicy stuff! I absolutely can't do really spicy things – I think it has to do with sensory overload in relation to my fibromyalgia.)
My favorite Indian dish is dahl, which is a spiced (but not too spicy) lentil dish, usually served over rice. Sometimes it's got some veggies like cauliflower or spinach in it, though it comes plain, too. Where we live, there aren't many Indian restaurants, and the ones here are kind of pricey, so it's a rare treat to be able to go out for Indian food. Funny enough, we're actually kind of broke this month since we just bought a used car from a friend, so we turned to our bulk foods like lentils and rice instead of expensive fake meats. And then… our attempt at dahl was born.
Since I was busy baking cookies for a cookie contest, Charlie took the helm on this recipe. And, as usual when Charlie cooks, he estimates a bit more than I do (since he's not used to writing down exact quantities for a blog, haha), so you might need to adjust these all a tiny bit to taste.
Ingredients: (Dahl)
sesame oil to coat pan
1/2 onion, chopped finely
3 cloves of garlic, minced
1 tablespoon ginger, minced
4 cups vegetable stock
1 cup lentils, soaked in water for 45 minutes
1 1/2 teaspoon cumin
1 teaspoon corriander
1 teaspoon tumeric
1/4 teaspoon cardamom
1/4 teaspoon cinnamon
1/4 teaspoon cayanne
2 small tomatoes, chopped
2 tablespoons lime juice
dash cilantro
salt and black pepper to taste
Directions: (Dahl)
In a medium stock pot, saute the onion, ginger, and garlic in sesame oil until the onions are translucent. Add tomatoes and cook for one minute. While stirring, add the stock and lentils. Add the spices, including the salt and pepper. Cook covered for 20 minutes. Cook uncovered until it reaches desired consistency (we like it less runny). Stir in lime juice. Serve over over spinach rice and/or with naan.
Ingredients: Spinach Rice
4 cups of cooked white or basmati rice
1/2 onion, chopped finely
4 cloves of garlic, microplaned to create a paste
1 tablespoon ginger, microplaned to create a paste
2 tablespoons lemon
2 cups of spinach, finely chiffonaded
1/4 teaspoon cumin
1/4 teaspoon ground corriander seed
salt to taste
Directions: (Spinach Rice)
Saute the onion in a bit of oil in a large pan. When the onion is translucent, add the garlic and ginger pastes and cook very briefly. Add the spinach, lemon, cumin, and corriander seed, and cook for about a minute. Add the rice and stir. Salt to taste.