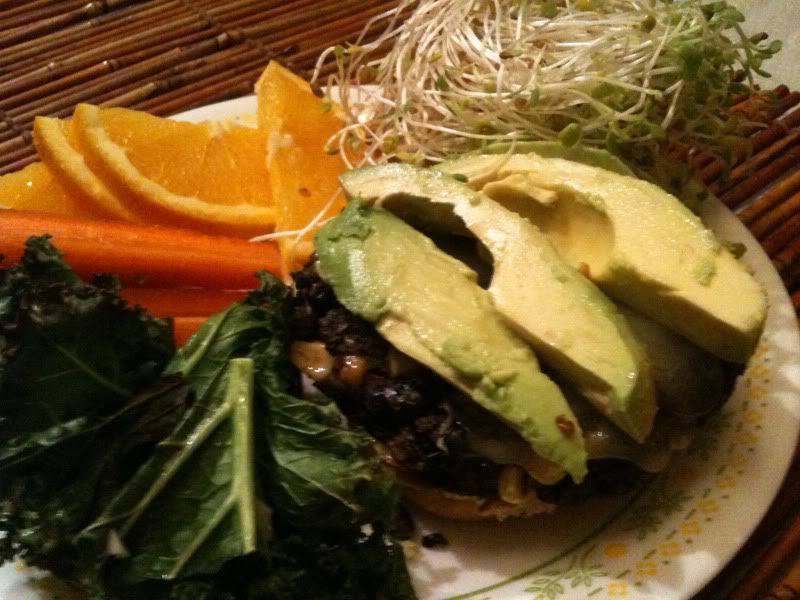 In this recipe, you'll get a night of black bean tacos, plus a night of delicious black bean burgers, all out of the same pot of beans!
Charlie and I have been trying to live more frugally and more healthily, and one of the things that means for us is trying to use less processed fake meats.
Why less processed fake meats?
• They're more expensive than some proteins. Even at the most expensive store I can think of in the area, organic black beans are $1.99 for a pound, and there are places that you can get them for half of that, at least. The Gardein Crispy Tender Strips that I love so much are $3.99 for 9oz (and are much less filling).
• Fake meats are less sustainable than legumes since they're more processed, so more fuel, electricity, etc, has to be used to produce them.
• Dried beans & legumes can often be purchased in bulk, which eliminates the need for wasteful packaging. If you're cool like me & Charlie, you might even bring your own bulk and produce bags made out of old teeshirts.
• Fake meats may be healthier than real meats, but they're definitely not whole foods, and we want to eat as healthy foods as we can.
Now, one of the problems that I face in terms of using dried beans is that a lot of them have to be soaked overnight, especially my favorite, black beans. (Soak overnight if you're planning to slow cook in the morning. Soak all day if you're planning to cook on the stove at night.) Between typical human forgetfulness and fibro fog+lyme brain, I almost never remember to do this. On Sunday, I even woke up early and said to Charlie, "Hey, I'm going to go soak the beans! I'll cook them on the stovetop instead of the slow cooker, and we can eat them for dinner tonight!" I then promptly forgot for at least three hours.
After that fail and some googling, I learned that if you find yourself in this situation, you can boil the black beans for two minutes, then let them soak in the hot water for two hours instead of all day. I'd say that the cook time was a bit longer than usual, but it definitely worked out well.
Anyway, my plan for our Sunday night dinner was black bean tacos. We eat tacos fairly often, but usually with refried beans from a can. We made a big pot of black beans and used about a third of it for tacos. The next night, I made black bean burgers, which were pretty incredible. We still have four patties left to freeze. Charlie, though he is a tofu-loving meat eater, is not a big veggie burger fan, but he ate the whole thing. He said that it wasn't quite a burger, but it was definitely a good sandwich.
I served the burgers with cheese and avocado on top, and with carrot sticks, orange slices, and kale chips. It was an easy meal that was really healthy. If you want to make things really easy on yourself, keep a few burger buns in the freezer along with your burgers so you'll be ready to go.
Ingredients – Black Bean Mixture Base
2 cups dried black beans
1 medium onion, finely chopped
1 large roma tomato, chopped
4 oz mushrooms, finely chopped
1/2 packet natural taco seasoning
1 teaspoon garlic powder
1 teaspoon cumin
Directions
In a medium to large pot of water, bring the black beans to a boil for two minutes, then let them soak for a minimum of two hours. (If you have the time, soak in cold water overnight as this retains more nutrients.)
At the end of the soaking time, drain off the water and replace with about 4 cups of water. Simmer on medium-low heat for about an hour, then add the onion, tomato, and mushrooms. Simmer for another 30 minutes or until the beans are soft enough to eat and the water has reduced. If you prefer your burgers to have a plainer taste or a different spice, you can remove a portion of black beans (probably 1/3) for tacos and leave the rest for burgers, but keep in mind that the seasoning amounts here are for the entire batch.
Use what you will for tacos. Store the extra black beans in a container in the fridge until the next night, when you'll make the black bean burgers (unless you're feeling super ambitious and want to do it immediately). When transferring the bean mixture to a container, use a slotted spoon so that any excess liquid does not transfer to the container.
Yield: Enough for tacos for two hungry people who really like tacos, and six large black bean burgers.
Ingredients – Homemade Black Bean Burgers
3 cups seasoned black bean mixture
1 large egg
3/4 cup breadcrumbs
1 teaspoon dried cilantro (use 1 tablespoon fresh if possible)
1 tablespoon chopped fresh parsley
3/4 cup fresh or frozen corn
Directions
Preheat the oven to 375*F. Using a potato masher or a pastry blender, smash the black bean mixture in a medium bowl until it is the desired consistency (I prefer to leave some beans whole). Add the egg and mix well. Add breadcrumbs, cilantro, and parsley and stir, ensuring the they are evenly distributed. Finally, add the corn. Shape the mixture into patties (we got six large patties out of it) with your hands.
Bake at 375 degrees for 10 minutes. Fry briefly in a pan with olive oil until browned on both sides if desired.
To store in the freezer, place a sheet of wax paper in between the burgers so that they don't stick together. To reheat from frozen, let sit on the counter for about 5 minutes (ok, this just happened because I was prepping other things last night). Bake at 375*F for 10 minutes on each side, then fry in a pan with a bit of olive oil until browned on both sides.
It didn't occur to me at the time, but I bet adding some nutritional yeast (perhaps 2 tablespoons) would be a great addition when the breadcrumbs go in. Next batch, I'll experiment!