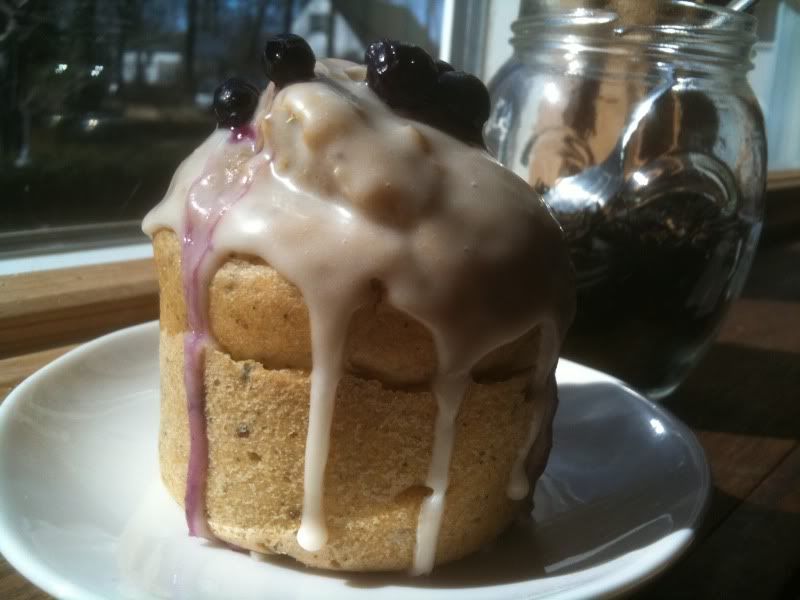 (Shh, they're vegan!)
I have just realized the tragedy that has occurred. These cakes never got posted. I made them ages ago!
I'd made Casey's Chai Cake when we had company because I thought it would be more popular than the slightly odder sounding Earl Grey cakes, but we have a fabulously fragrant Earl Grey that I've been dying to bake with. After I made the Chai cake, I knew I had to do it, pronto!
I made these in a new (to me) silicone baking pan my mom gave me since she never uses it. I've never used silicone pans before, and it was a muffin tin that was very deep. I've been very skeptical about silicone before, but they popped right out and looked adorable! I'm very happy to add this to my collection and I'm sure I'll use it often.
I had some soymilk to use up, so I took the opportunity to make these vegan, and Charlie had no idea until I told him. Be sure that if you're going to glaze these, you use the Earl Grey infused soymilk as the liquid for the frosting, otherwise, the somewhat subtle taste of the tea will be lost underneath the sweetness of the plain glaze! Be careful about your tea selection – you want an Earl Grey that has a lot of bergamot in it.
Love how the blueberries got the glaze all pink!
Ingredients
Cakes
1/2 cup Earth Balance
2 cups whole wheat pastry flour
2-3 tablespoons natural sugar
2 tsp baking powder
1/4 tsp salt
1 1/4 cup Earl Grey Soymilk* (I used vanilla soymilk as a base – you may want to add 1 tsp vanilla if you're using plain milk or plain soymilk)
1 tablespoon commercial egg replacer (or milled flax + 2 tablespoons warm water)
1 teaspoon Earl Grey loose leaf tea leaves, finely ground with mortar & pestle
dash of lemon juice
*To make Earl Grey Soymilk, heat 1 3/4 cups milk in a saucepan on low-medium heat. When bubbles form around the edge of the pot, add about 9 grams of loose leaf tea (about 3 teaspoons) in a filter or 3-4 tea bags. Let steep for 5 minutes. Cool.
Glaze
1/4 cup Earl Grey Soymilk
1/2 teaspoon lemon juice (or to taste)
1 cup confectioners sugar (or to desired consistency)
1/4 cup fresh or frozen blueberries (optional, for decoration)
Directions
Cream the Earth Balance and natural sugar together in a medium or large bowl. Since the ratio wasn't totally even, it won't come out perfectly creamed, so just give it a good mix. In a separate small bowl, mix the milled flax and warm water together until it gets gooey, then add that to the sugar mixture. Add the dash of lemon juice.
In a separate bowl, mix the whole wheat pastry flour, the baking powder, and the salt together. Slowly add a bit of this dry mixture to the creamed mixture, stirring constantly or mixing with the paddle attachment of your stand mixer. Alternate from time to time with some of the 1 1/4 cups of Earl Grey soymilk. Add a little of each until they are all mixed in. Stir in the Earl Grey tea leaves.
Pour into the silicone baking pans. You can use prepared cupcake pans with liners or that have been greased if you don't have silicone pans.
Bake at 375*F for 20 minutes or until a toothpick inserted comes out clean.
Let the cakes cool for several minutes before removing them from the silicone molds.
Meanwhile, make the glaze. Add the remaining Earl Grey soymilk, lemon juice, and confectioner's sugar until you reach the desired consistency. Making the glaze too thick with confectioner's sugar may take away from the Earl Grey flavor. If you desire a super thick glaze, you may want to consider using bergamot extract.
Dip the tops of the cakes into the bowl of glaze and garnish with blueberries if desired.