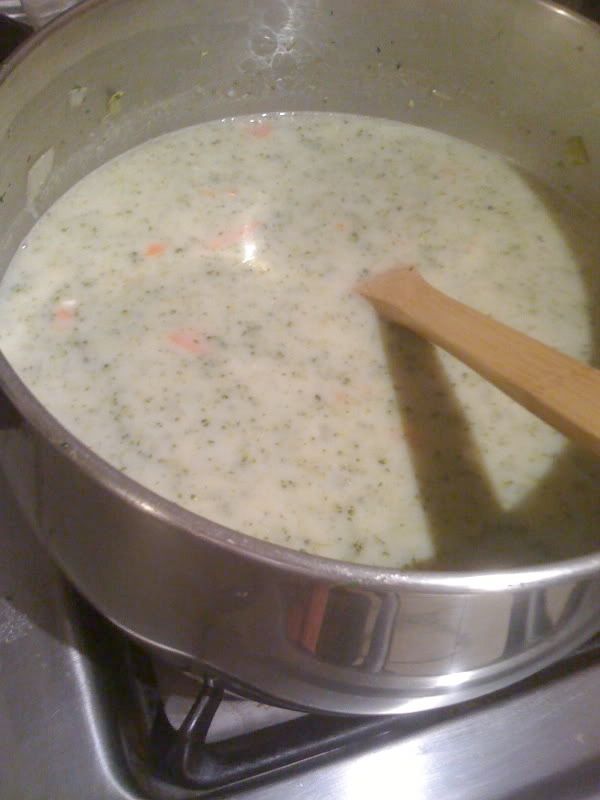 Charlie loooooves broccoli, so when the weather went chilly again this week, I pulled out this recipe I created long ago. This soup went along with my Lactose Overdose: Spinach Cheddar Muffins. I managed to use up some Bibs and Bobs Vegetable Stock that I had in the freezer, so this batch really turned out quite lovely.
All I need now is an immersion blender!
Ingredients
1 tablespoon butter
1/2 onion, chopped finely
1 stalks celery, chopped finely
2.5 cups vegetable broth
more water if necessary
3 cups broccoli, about half chopped finely and half coarsely
1 potatoes, chopped
1 carrot, chopped
Several shakes of garlic powder (or 2-3 cloves of garlic, minced)
1.5 tablespoons butter
1.5 tablespoons all-purpose flour
1 cup milk
1/4 cup heavy cream
ground black pepper to taste
1/2 cup shredded cheddar cheese
chives for garnish
Directions
In 1 tbsp butter, saute the onions and garlic on medium heat in a large pot for 2-3 minutes or until soft. Do not brown. Add the 1.5 tablespoons of butter, and when melted, add the flour. Stir this mixture together and cook for one minute, again, not allowing it to brown.
Add the vegetable stock on top of this. Stir until the flour mixture is incorporated into the stock. Bring to a boil.
Reduce the heat. Add the remaining vegetables (celery, carrot, potatoes, broccoli) and stir. The stock should cover the vegetables. If it doesn't, add a bit of water.
Simmer the soup for about 15-20 minutes. Add the milk, cream, and garlic powder (if you did not use fresh garlic). Stir. Let simmer for another 3-5 minutes. Add the shredded cheddar cheese. Stir until it is completely mixed in. At this point, you may use an immersion blender to make the soup smoother, or a potato masher failing that – this step is optional. Add fresh black pepper to taste.
Serve with fresh chives on top if desired.