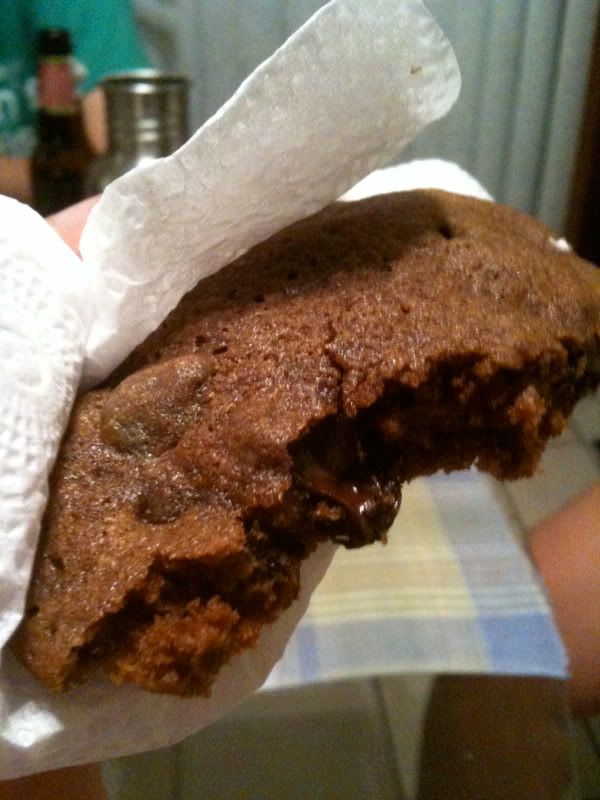 We have a guest baker on the blog today! (Actually this transpired a few weeks ago, but I've been terrible about getting it posted.) Our friend Jack just moved to NYC, and one of the first things we decided that we should do was to have a baking party. Our other friend, and Jack's "person," Eli, came over, too, as Eli was visiting from so we had a couples baking night.
Jack (left) works at a coffee shop, so ze* brought us some espresso to make some yummy mocha cookies. Ze also brought me a nonfat vanilla iced latte with just a tiny bit of syrup, just the way I like it! Thanks, Jack. Eli is the helper on the right.
These cookies came out extremely soft and fluffy. They were like little mocha pillows. A word to the wise, though… As delicious as these cookies are, don't get carried away eating them before bed. We did, and between that and the excitement of our visit we didn't get to bed until six in the morning. Ridiculous!
Ingredients
1/4 of dutch cocoa
2 2/3 cups flour
1 1/4 tsp baking soda
1 tsp baking powder
pinch salt
1 cup unsalted butter
1/4 cup white sugar
1 cup packed light brown sugar
1 tsp vanilla, or a little more
2 egg whites and 1 whole egg (this happened because we were baking a cake, too, and had some extra whites – feel free to just use two whole eggs)
2 cups dark chocolate chips (though we made some without chocolate chips, too)
6 shots of espresso
Directions

Preheat oven to 350° F. 

Combine flour, baking soda, cocoa, and salt in small bowl.
Cream butter and sugar in a large bowl. Add eggs one at a time, beating well after each addition. Add vanilla and espresso and stir.
Add flour a little at a time, scraping the sides of the bowl. When all the flour is mixed in, stir in the chocolate chips. Drop by big spoonfuls onto parchment paper.
Bake about 10 minutes or until golden brown. Cool on wire racks.
*Ze is a gender neutral pronoun. If you're just not sure how they fit into parts of speech, there's a chart here. If you want to read more about the what/why/how, feel free to email me, or, (as much as I hate to use wikipedia as a reference, there's currently some good information on there), you can view the Wikipedia page on gender neutral pronouns here.