It has been damn hot in the NYC area this past week (well, from what I hear, it's been hot in a lot of places), and it actually reached triple digits this past weekend. We had to shuffle locations around for the birthday party that I made Aunt Sassy Cake for so that we could be at a house with air conditioning in the common areas, not wanting our friends to wilt away in the backyard heat. (This worked out splendidly as the change of venue meant we got to play one of my favorite board games, Scattergories!)
Anyway, Tuesday, the heat broke, and it went from being 103*F on Friday to a practically chilly in comparison 82*F. I was up early Tuesday morning, too, due to the aforementioned trouble sleeping Monday night. I was out of bed at 8 a.m., which is fairly unusual for me unless I have someplace to be, but that meant that it was downright nice outside. I quickly got a chore or two out of the way so I could head out to the garden.
Most varieties of pumpkins (except for the reeeeallly huge ones) need 90-100 days til maturity, but that means that they need to be planted between July 23rd and August 2nd to be perfect for Halloween, and between July 23rd and August 2nd, it is damn hot. It's been so hot, in fact, that I wondered if I'd even be able to get my pumpkins planted, besides the container of Jack-Be-Littles that I planted one cooled off evening.
This morning, however, was glorious. I even perhaps went a bit overboard. I planted Luminas, which have a ghostly white skin. I planted Long Island Cheese Pumpkins (which are really cool looking, google them if you've never seen one!). I transplanted some of the Jack-Be-Littles from the container to the ground because I had a higher germination rate than I'd expected. And, finally, just for hahahs, I planted Giant pumpkins. Last year I also planted multiple varieties of pumpkins (Giant, Sugar, and Lumina), but our pesky groundhog frenemy ate so much of them that there was absolutely no success. This year, we've barely seen him, so I'm hoping that he's found someone else's yard to enjoy and that I'll get a whole mess of pumpkins.
After the furious pumpkin planting was complete, I started another round of broccoli and one little burgundy bean container. The burgundy and soy beans that I started earlier this year fell victim to another member of the household not looking at the markers carefully enough. I've been seeing the burgundy beans at farmers markets, and I'd just love to have some, even just a few! As for the broccoli, this will be my third try. Last time was almost successful, but still not quite. Perhaps this time I'll get lucky!
Lettuce was re-sown on the 18th, and carrots were harvested and re-sown on the 20th. Look how beautiful they were! They're a variety called Parisian carrots, which are a short variety very well suited for container growing, so yes, they're meant to be that size/shape!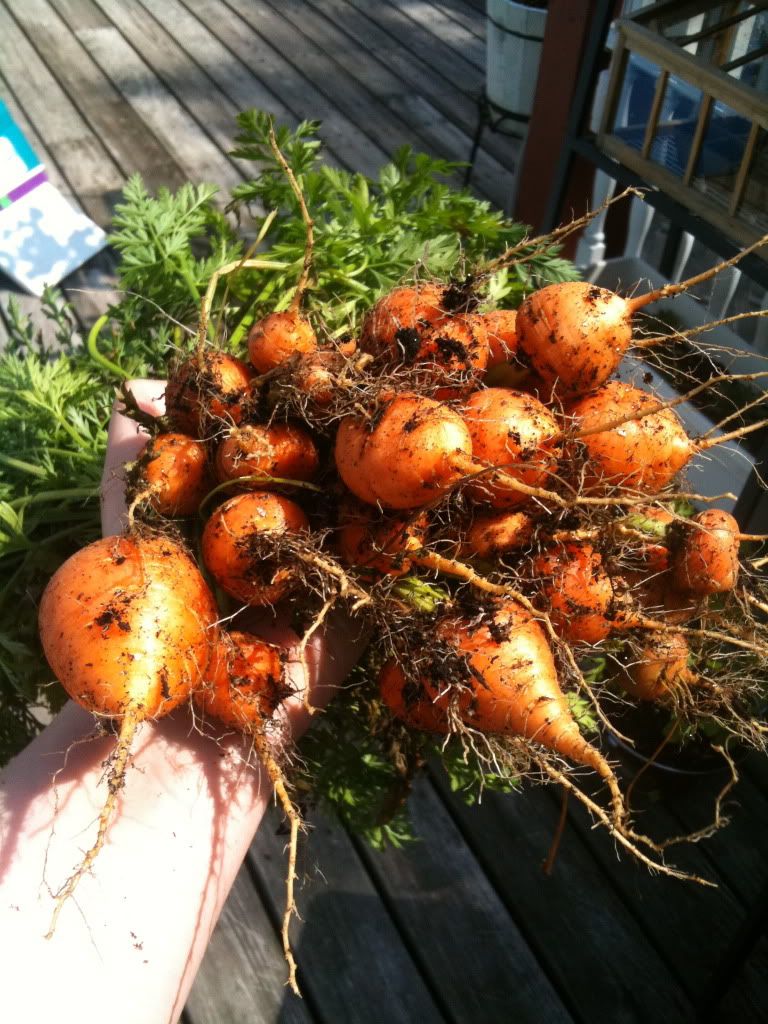 Next up: get some more containers prepared so I can get some kale started for the fall. Anyone else doing a fall garden?
This is probably the last chance I'll have to remind you that you should enter to win a gift certificate to Measuring Spoons on Etsy, which has neat stuff like baking-related handmade cards and soon, some pretty delicious baking mixes. So, check it out!