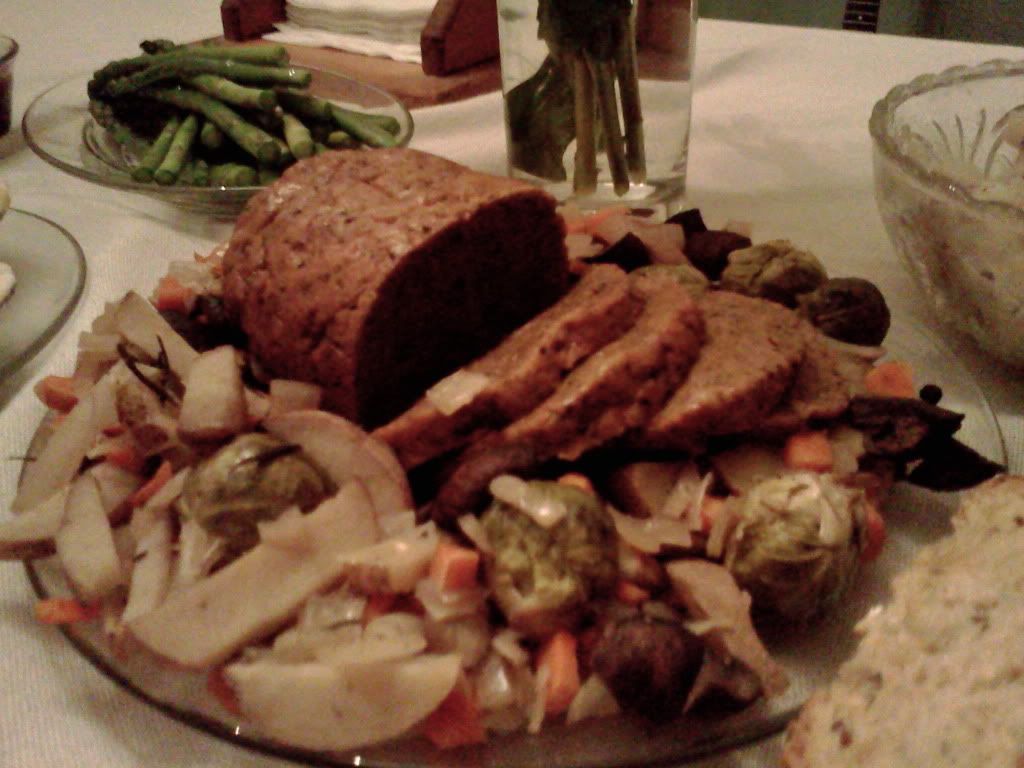 I don't have the best picture of this because of low lighting, but it did come out pretty nice looking! Photo is of a vegetarian roast with a few slices taken out, surrounded by veggies.
I've been wanting to make Vegan Planet's Slow-Cooker Seitan Pot Roast since the moment I heard about it, and that was ages ago. Over a year ago, for certain. It just sounds so delightful – pretty much, the part of Thanksgiving that's been missing for me the past 15 or 17 odd years, namely, the turkey, but more importantly, the ridiculous sandwiches of turkey and cranberry sauce and whatever else you could cram between two pieces of lovely bread the next day.
Finally, finally, Bo and I took on this project. It really wasn't hard to put together at all. In fact, the wheat gluten worked in quite magical ways, as one minute it was this powdery dry stuff, and the next, when you poured the liquid in and stirred maybe two or three times, it had become a solid-ish, bouncy sort of object. SCIENCE!
Anyway, I'll be totally honest here. This seitan roast was not the seitan roast of my dreams. It came out pretty darn rubbery, and I can't say whether we overmixed it in trying to get it to look sort of like a roast (or at least one contiguous blob) or if we left it in for too long or not long enough. Slow cookers are a little wonky as you're never quite sure if yours is the same as the person's who wrote the recipe, and times can vary quite a bit. There's even a note to that effect in the recipe.
But hey. This blog is subtitled "recipes and experimentations," right? I'll give this another chance, and if that still doesn't work out, I might try it in the alternate/oven method, especially since our veggies that roasted in the oven came out far superior to the ones in the slow cooker. But you know, we had a veg*n Thanksgiving roast, and we had leftover sandwiches (albeit rubbery ones) and that was pretty cool.
Note: Since we were roasting a whole tray of veggies separately, we did not put the full amount of veggies in.
Ingredients
1 yellow onion, peeled and coarsely chopped
1 pound carrots
1 pound small red-skinned potatoes, halved or quartered
Salt and freshly ground black pepper
1 cup vegetable stock
2 garlic cloves, crushed
1 teaspoon dried thyme
1 teaspoon dried marjoram
2 cups wheat gluten flour
1/2 teaspoon onion powder
1/2 teaspoon garlic powder
1 1/2 cup water or vegetable stock, or more as needed
3 tablespoons soy sauce
1 tablespoon ketchup or tomato sauce
Directions
Note: You may need to adjust your cooking time according to the quirks of your own crockpot. The one I used for this recipe cooks fast — if I had used one of my other slow cookers, it would have taken nearly twice as long.
Arrange the onion, carrots, and potatoes in the bottom of a lightly oiled slow cooker. Season the vegetables to taste with salt and pepper and add the stock, garlic, and 1/2 teaspoon each of the thyme and marjoram.
In a large bowl, combine the wheat gluten flour, onion powder, garlic powder, the remaining 1/2 teaspoon each of thyme and marjoram, 1/2 teaspoon of salt, and 1/4 teaspoon of black pepper. Add the water or stock, soy sauce, and ketchup. Mix well, adding a little more water if the mixture is too dry, then knead for 2 minutes until smooth. Shape the gluten to fit inside your cooker and place on top of the vegetables. (You can place it on top of a piece of aluminum foil or wrap it in cheesecloth, if desired, to keep its shape). Put the lid on the slow cooker and cook on LOW for 4 to 6 hours (or longer, depending on your slow cooker – we did about six), or until the seitan and vegetables are cooked.
To serve, remove the vegetables and seitan from the slow cooker. Cut the seitan into slices and arrange them on a serving platter. Surround with the vegetables and spoon the cooking liquid over all or transfer the cooking liquid to a saucepan and thicken into a gravy.
Serves 4, more when you're making Thanksgiving dinner with lots of sides!