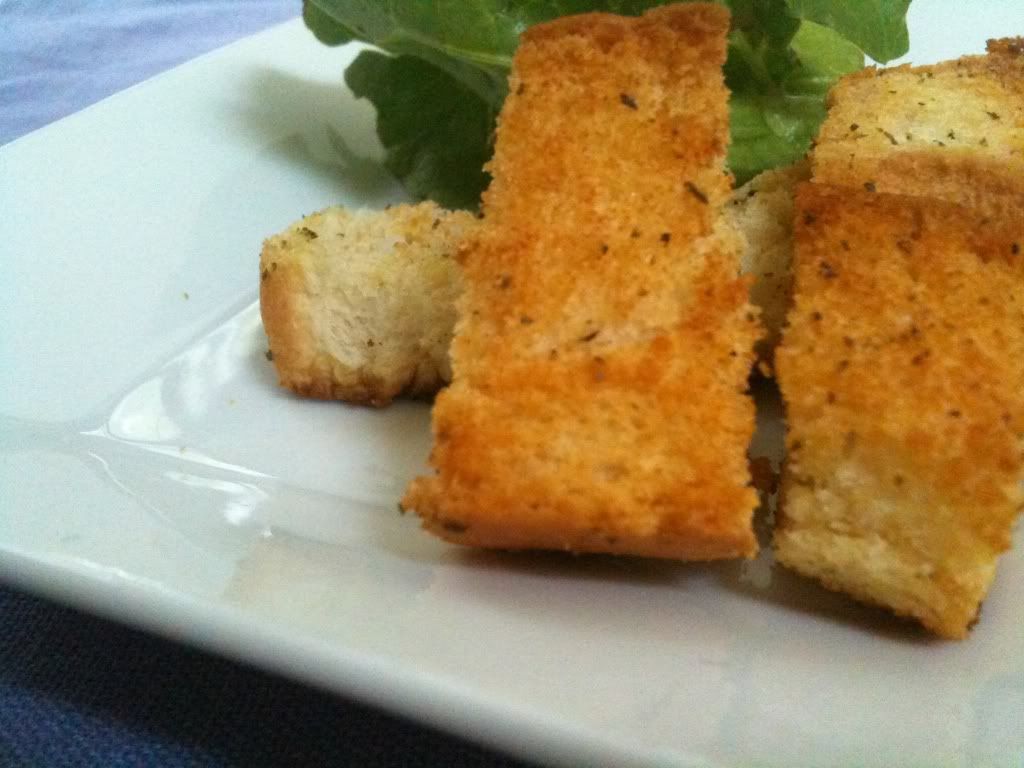 I've always thought that homemade croutons sounded so elegant and delicious, but I never attempted to make them. There must be some secret to making them so delicious and impressive, right?
No! They are SO easy!
Since we're getting into the time of year where we'll be eating a lot of fresh salads, since our Community Supported Agriculture share usually gives us a ton of leafy greens during June, (now that I know the secret that making croutons is super simple), I'll be making a bunch of variations on these. I've finally been cajoled into tweeting, so if you want to follow me at @measuringspoons you'll be able to keep up with what I'm up to, including quick little tips and variations on a crouton recipe. :)
What prompted me to finally try making croutons was having a ton of extra bread lying around. Charlie had to organize a BBQ for his job a week or so ago, and we ended up with a whole lot of extra hamburger and hot dog buns. I have some in the freezer, but one bag had been left out in anticipation of grilling, but then we'd had lots and lots of rain. Instead, a crockpot full of soup with some croutons was in order, so I served these over my Crockpot Creamy Corn Potato Soup. I have some left over for some giant salads this week, too.
Ingredients
4 hamburger buns (or other bread)
1 tablespoon dried rosemary, finely ground with a mortar and pestle
olive oil (use the spray if you've got it)
garlic powder
coarse salt
fresh ground pepper
Directions
Preheat the oven to 350*F. Using a bread knife, cut the hamburger buns (or bread) into small chunks. Line a baking sheet with parchment paper. Arrange the bread chunks in a single layer on the baking sheet. Spray them lightly with olive oil. Use a spatula to flip the bread chunks over and spray the other side of them with oil, then sprinkle garlic powder (a little if you like a little, a lot if you like things really garlicky) and the rosemary evenly over the bread chunks. Season with salt and pepper.
Alternatively, if you don't have the spray oil, you can just toss the bread chunks in a bowl with oil, then lay them on the sheet and apply the spices as directed.
Bake for about 12-17 minutes at 350*F. Because oven times vary, yours may need a little more or less time. The croutons are done when they are crispy and browned. Be sure to store in an airtight container.