The weather in the tri-state area has been just gorgeous lately. We spent most of the weekend sitting outside on the back deck, enjoying the greenery that has finally decided to appear on the trees (as well as getting a nosefull of pollen!).
The container garden that I've started is mostly doing quite well. The kohlrabi can't decide whether it wants to live or die. The lettuce and spinach did die while I was in New Orleans, but I resowed it and hopefully we'll have that come up. All of the tiny tiny seedlings that were in the trays inside didn't make it (due, it would seem, to someone in the house, I won't name names, wanting to be helpful and watering a bit too much). But, just about everything did ok outside, so I haven't had to replace much. The only thing I really had a hard time with was the peppers, and I've started them outside again this week.
The carrots are doing wonderfully. And take a look at the broccoli and peas! Can you believe it?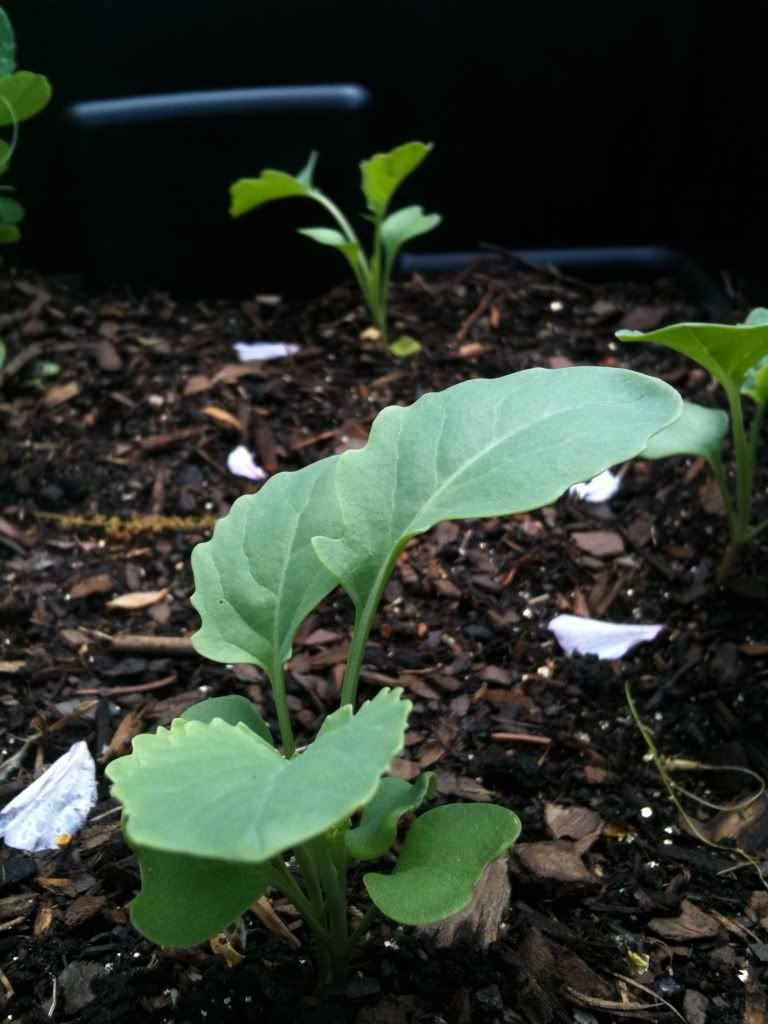 Also, in the short week that I was in New Orleans, my apple tree (that looked little more than a skinny stick in a bucket of dirt when I left) grew a whole bunch of leaves! Check it out!
It's warming up enough here to start sowing some stuff directly into the ground. We're still not sure what our plans are for moving, but since we live with my partner's mom, who also likes gardening, we can always just leave her a yummy harvest if we find a great apartment mid-summer. So, Sunday, I put in a short row of soy beans and a short row of royal burgundy bush beans.
We started talking about plans for a triangular trellis for the sugar baby watermelons, which I started inside today. Another summer treat we'll have is corn. Today, I sowed about a 3.5′x3.5′ patch (I know that Charlie is going to tell me that I'm way off in my estimate, since I'm terrible at them) of corn. I have space on either side of the patch to do more corn, too. One of the sections needs to be cleared of forget-me-nots and weeds, and the other is ready to go. I'm planning to plant the corn in succession so that we don't have a glut all at once. So, in two or three weeks, I should be ready to plant the next patch of corn. I may also plant my pumpkins over there, both because there would be room for them to vine and because they give important nutrients to the corn. We'll see – it's early for that.
I actually planted a handful of flowers, too. Usually I stick to veggies, but I had a wildflower mix that I decided to toss in a window box, and I'd gotten some painted daisy seeds from the seed library. I was planning to plant them in a pair of old polka-dotted rain boots, but they're MIA at the moment, so I started them in pots that would set just about properly in the boots, and I'll look a little harder for the boots in the next few weeks.
One last funny note about the garden. As you might have read, we had some hoop houses to keep the kale warm when it was very chilly. Well, I uncovered the hoops when I got home from NOLA, and the kale was doing ok, but I had some really healthy looking tomato plants, perfectly spaced out! It was pretty funny. I used compost to get that area going, so there must have been a few seeds that snuck in that our wormies didn't process. They look so healthy that I think I'll let them grow! With any luck, they're seeds from the heirloom tomatoes we get in our CSA share.