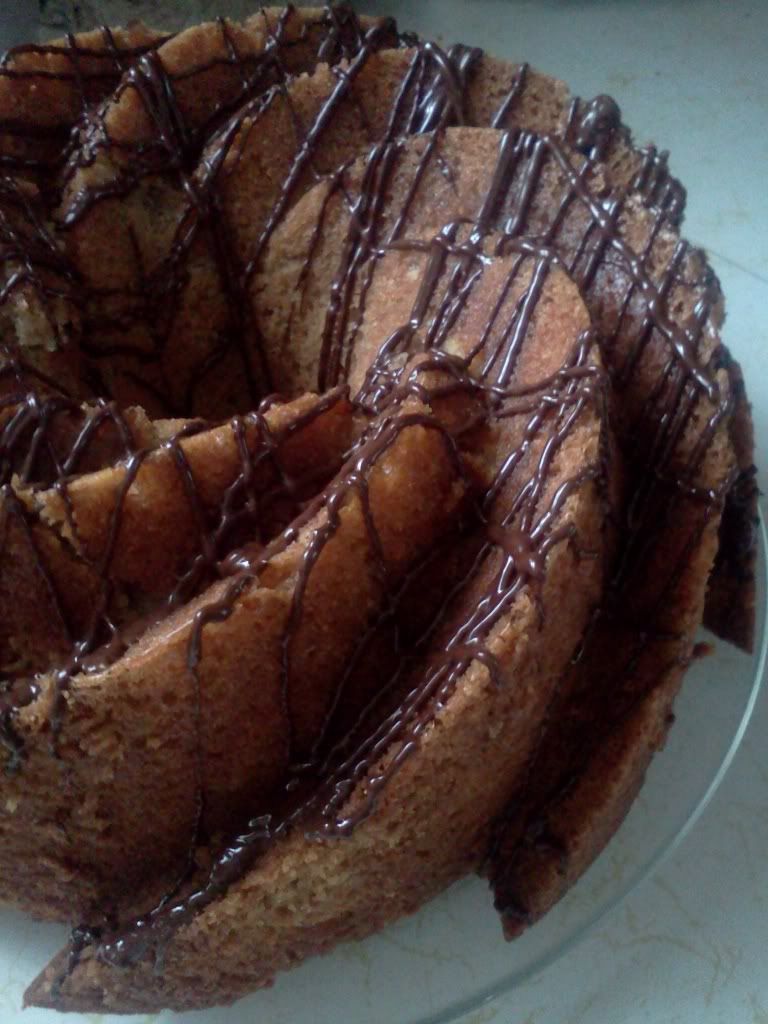 A couple of weeks ago, I set out to make a pound cake. You see, we've been getting an awesome egg share this year from Southtown Farms, and my family and I figured we'd be able to go through the full share at a dozen a week. Well, we were doing just fine with it, actually, until one day someone accidentally bought an extra dozen eggs or two to make quiche, and then we just had a million damn eggs. I'd seen some pound cake recipes online that used a whole lot of eggs, so I looked at a few (here's one I used for reference) and made up the rest based on what ingredients I had around.
We ended up bringing this cake to my aunt & uncle's house one evening when we had a BBQ. My other uncle was there, too, as was part of my immediate family and my cousin. Since my Heritage Bundt Pan produces a pretty huge cake, I figured I'd only need to bring half of it with me, but I never got around to cutting it and brought the whole thing. As it turned out, nearly 7/8ths of the whole cake was gone – despite the fact that a few members of the family are trying to avoid sugar! Too tempting, I guess. :)
The flavors here came out really nicely. They layered together well with just an undertone of vanilla, a hint of caramel at the edges from using the natural sugar, and then the headiness of almond and bergamot (which you'll recognize as what makes Earl Grey tea taste as it does). I finished this moist cake with a drizzle of a nice quality melted dark chocolate – I used a bar of Dagoba I'd gotten as a gift.
*Note: If you do not have the required bergamot extract, you can infuse the milk with Earl Grey tea for a similar result.
Ingredients
1 1/2 cups butter
6 eggs
3 cups whole wheat flour (this is what I had on hand – you can use white whole wheat or split between whole wheat and all purpose)
2 cups natural sugar
1 tablespoon baking powder
1/2 teaspoon salt
1/2 teaspoon vanilla bean paste
1 teaspoon almond extract
1/2 teaspoon bergamot extract
2/3 cup yogurt (I used one 5.3 oz cup)
1/3 cup milk
1/2-3/4 bar of good dark chocolate, about 1-1.5 oz (optional)
handful of slivered almonds, toasted (optional)
Directions
Grease and flour a 10-cup bundt or tube pan. Do not preheat the oven.
In a medium bowl, mix flour, baking powder and salt. Set aside.
In a large bowl, cream the butter and sugar until light and fluffy. Add eggs one at a time, mixing well each time. Add vanilla, almond, and bergamot extracts.
Add flour mixture to the cream mixture, alternately with yogurt. Add milk. Beat until smooth. Pour batter into the prepared tube or Bundt pan. Place pan on a tray to prevent overflow in the oven.
Place cake into cold oven, set the temperature to 350 degrees F (175 degrees C) and bake for 60 to 90 minutes, or until toothpick inserted into center of cake comes out clean. (This took me about 60 minutes, but your mileage may vary depending on how long your oven takes to heat up.) Let the cake cool in the pan for 15 minutes before turning it out onto a cooling rack.
In a double boiler or CAREFULLY in the microwave (don't burn it!), melt the chocolate. Cut the tip off a small plastic sandwich bag. Spoon in the melted chocolate, and drizzle lines back and forth over the cake. Decorate with almond slivers if desired. Let the chocolate set before serving.